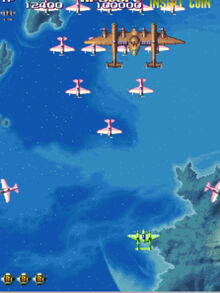 "A bit of Blue Sky Between the Clouds" is the first level of 19XX: The War Against Destiny.
Location: Pacific
Level Time: 35 seconds
Pink Planes
Twin Plane Bomber
Double Engine Bomber
Red Power Up Planes
Gray and Red Medal Planes
In the Beginning, the F Blacker is seen with 2 Double Engine Bombers shooting down WPA Flying Carrier Number 07. Then Mark Raratto (and George Hamill) is seen escaping in their planes. When they almost reach Ayako Special , It will release Parachute Tanks that can be shot down for points and accuracy. When they reached Ayako Special, It is seen that they have dived down.