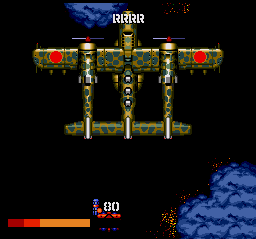 Ayako Kai is the boss of mission 9 in the PC Engine version of 1943 Kai.
Ayako Kai is a revision of the original Ayako, exchanging the regular propeller engines for rocket engines. The design of Ayako Kai is very similar to Leviathan from 1941: Counter Attack.
This boss has a few new tricks, like being able to release small enemy fighters and shooting homing missiles, in addition to the regular bullet patterns used by the original Ayako.
Ad blocker interference detected!
Wikia is a free-to-use site that makes money from advertising. We have a modified experience for viewers using ad blockers

Wikia is not accessible if you've made further modifications. Remove the custom ad blocker rule(s) and the page will load as expected.