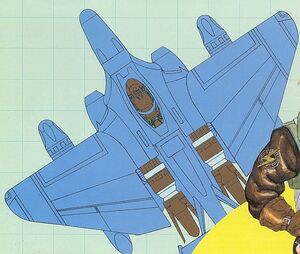 The Dakao M-2451 Scimitar is one of the two ships from Varth: Operation Thunderstorm.
Specifications
Edit
Code #: SO-0819HGS
Engine: HRO402-Maximum thrust 6,773 lbf (30.13 kN)*2
Wingspan: 32' 4"
Length: 35' 11"
Height: 10' 3"
Weight: 13,671 lb (6,201 kg)
Maximum speed: 492 kn
Ceiling: 55,773 ft (17,000 m)
Range: 4,128 nmi (7,645 km)
Available arms:

V61K 30 mm Vulcan
HLC-5 Zoom-Laser Gun
WR-7 A.A. Rocket Missile
Smart Pods
Front Pods
Ad blocker interference detected!
Wikia is a free-to-use site that makes money from advertising. We have a modified experience for viewers using ad blockers

Wikia is not accessible if you've made further modifications. Remove the custom ad blocker rule(s) and the page will load as expected.