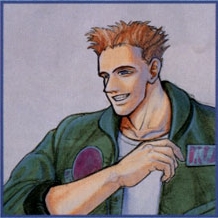 James Roy is one of the three pilots from Carrier Air Wing.
James Roy is a ace pilot and member of the U.S. Navy's "Blue Angels" acrobatics team. His adroit handling of his plane gives him an advantage against both air and ground foes. James was born in Louisiana, USA, and pilots a F/A-18 Hornet.
James roy curiously sports blonde hair in the game's flyer artwork, while in the actual game he sports black hair.