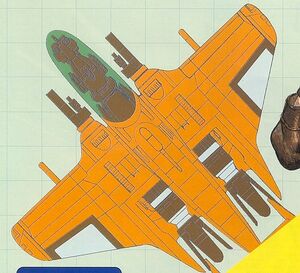 The Tanikura F7W Saber is one of the two ships from Varth: Operation Thunderstorm. It is piloted by Casber Rublan.
Specifications
Edit
Code #: EK-0131S
Engine: J33S-Kinsei thrust 9,032 lbf (40.18 kN)*1
Wingspan: 31' 9"
Length: 29' 6"
Weight: 9,922 lb (4,501 kg)
Maximum speed: 553-knot (1,024 km/h)
Ceiling: 55,256 ft (16,842 m)
Range: 4,096 nmi (7,586 km)
Available Arms:

V61K 30 mm Vulcan
HLC-5 Zoom-Laser Gun
WR-7 A.A. Rocket Missile
Smart Pods
Front Pods
Ad blocker interference detected!
Wikia is a free-to-use site that makes money from advertising. We have a modified experience for viewers using ad blockers

Wikia is not accessible if you've made further modifications. Remove the custom ad blocker rule(s) and the page will load as expected.