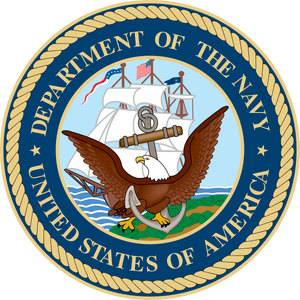 The United States Navy is the major protagonist organization featured in the 1940 series.
Real World Information
Edit
The United States Navy (USN) is the naval warfare service branch of the United States Armed Forces and one of the seven uniformed services of the United States. The U.S. Navy is the largest, most capable navy in the world, with the highest combined battle fleet tonnage. The U.S. Navy has the world's largest aircraft carrier fleet, with ten in service, two in the reserve fleet, and three new carriers under construction. The service has 328,194 personnel on active duty and 101,199 in the Navy Reserve. It has 272 deployable combat vessels and more than 3,700 aircraft in active service as of February 2016.
The U.S. Navy grew into a formidable force in the years prior to World War II, with battleship production being restarted in 1937, commencing with USS North Carolina (BB-55). Though ultimately unsuccessful, Japan attempted to neutralize this strategic threat with the surprise attack on Pearl Harbor on 7 December 1941. Following American entry into the war, the U.S. Navy grew tremendously as the United States was faced with a two-front war on the seas. It achieved notable acclaim in the Pacific Theater, where it was instrumental to the Allies' successful "island hopping" campaign. The U.S. Navy participated in many significant battles, including the Battle of the Coral Sea, the Battle of Midway, the Solomon Islands Campaign, the Battle of the Philippine Sea, the Battle of Leyte Gulf, and the Battle of Okinawa. By war's end in 1945, the United States Navy had added hundreds of new ships, including 18 aircraft carriers and 8 battleships, and had over 70% of the world's total numbers and total tonnage of naval vessels of 1,000 tons or greater. At its peak, the U.S. Navy was operating 6,768 ships on V-J Day in August 1945.
For more information see the Wikipedia Article'
In the Games
Edit
The U.S. Navy features more prominently in the first two games of the series, 1942 and 1943: The Battle of Midway. The Super Ace, the unnamed pilot on both of these games is one of their enforcers. Though still present on later titles, the Navy's role diminished with the introduction of fighters from other countries.