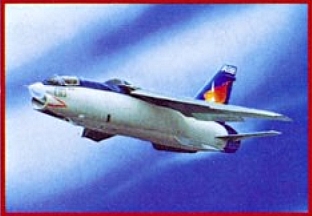 The Vought F-8E Crusader is one of the selectable fighters which appear in the SNES version of U.N. Squadron, and the first fighter available to the player.
Real World Information
Edit
The Vought F-8 Crusader (originally F8U) was a single-engine, supersonic, carrier-based air superiority jet aircraft built by Vought for the United States Navy and Marine Corps, replacing the Vought F7U Cutlass, and for the French Navy. The first F-8 prototype was ready for flight in February 1955. The F-8 served principally in the Vietnam War. The Crusader was the last American fighter with guns as the primary weapon, earning it the title "The Last of the Gunfighters".
For more information see the Wikipedia Page
In the Game
Edit
The F8-E is the most basic aircraft available in the game. It can be used on both air-to-air and air-to-ground combat but doesn't excel in either of them, with a low firepower which can be enhanced up to five times and only two secondary weapons equippable.